Donation to Save a Greek Stray
DV Foundation undertook the construction of a Net Metering PV System in "Save a Greek Stray – SGS" animal shelter in Oropos, Attiki. SGS is engaged in housing stray animals in a pleasing natural habitat, equipped with necessary supplies. Except housing, the organization provides the animals with veterinary services and sterilizations where necessary and rehabilitate animals until they can be released or re-homed, hoping that in the future will be adopted by a family. This leading construction has a total installed capacity of 20 kW and covers more than 50% of the energy consumption of the shelter. The goal was to help SGS spend less money on electricity so that way more money is saved for the animals' welfare. The development, supervision and construction of the project was carried out with the help of MGD ENERGY Company. With the installation of this project, a high percentage of the shelter's energy needs will be covered from green energy. This means that the environmental footprint of the shelter will be significantly reduced. The project constitutes a chance to promote knowledge about green energy, environmental protection and the advantages of PV systems in the business sector.
Support of Environmental Awareness Plastic Sculpture Project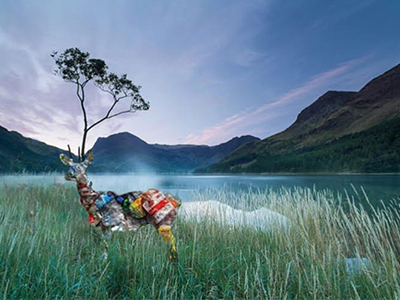 We supported the realization of the exhibition by Dimitris Liossis and Harrison Lambert. Art works will be on display at the Royal Horticultural Society Garden Rosemoor, in Devon, UK. It is an annual event, attended by more than 42,000 people last year. The collaborative project is about plastic waste and the impact and relationship to the natural environment and to wildlife. The two artists have been collecting the packaging they consumed for two years on a daily basis, as well as plastic garbage they found in the countryside and on beaches to create their sculptures. They allude to the connection of each living being to the planet, highlighting the impact of humans and how out of sync we have become. The project is not only about making art from these plastics, but it is a form of direct action too. They have salvaged hundreds of bags of plastic that would have otherwise been left to pollute the landscape and oceans for years to come. It has also been a process of observing, collecting and studying marine debris. It has allowed them to gather knowledge about where the hot-spots of plastics are, what kinds of plastics are most common and to an extent, where they are coming from.
Sheldrick Wildlife Trust – Elephant Adoption
Sheldrick Wildlife Trust is an organization engaged in rescuing and providing veterinary assistance to animals in need (elephants, rhinos and giraffes), as well as protecting the natural environment. The donation concerns the adoption of a baby elephant, found starving and dehydrated in Tsavo East National Park, Kenya. His name is Emoli, which means "elephant" in the Waliangulu tribal language. Emoli was found on August 2017, approximately 1 year old, on the verge of dying from a terrible drought that was scourging the region. By protecting an elephant, we contribute to the rescue of a whole species in danger, this of African Elephant. As statistics prove, during the 20th century there were approximately 3-5 million of African elephants, while today there are only 415.000. As foster parents of an animal in danger of extinction, we are more than excited to have secured his future. Moreover, we are more than pleased with our cooperation with Sheldrick Wildlife Trust.
Educational Programs in Hippolysis
Hippolysis is a non-profit organization that, as its name implies in Greek - Horse and Solution - provides solutions to horses that are no longer considered useful for their usual tasks and these in turn provide solutions to humans. Hippolysis provides sessions of self-knowledge, learning, evolution and treatment with the help of horses. The sessions are held at the Ippolysis Farm in Marathon under the supervision of volunteer psychologists, child psychologists, psychiatrists or other mental health professionals, with international certification EAGALA (Equine Assisted Growth and Learning Association). Learning with the help of horses is experiential, through structured exercises, discussion and analysis of what happened during the exercise. It helps in concentration and attention, in the development of the speed of perception of situations (internal and external) and in finding alternative solutions. It leads to a change in the way of thinking, acting, communicating and behaving. The program teaches basic principles of emotional health. That is, respect, responsibility, relationship skills, boundaries, choices, alternatives and consequences of actions. Our first pilot educational program was with the children of the children's town of Agia Varvara. The center is a branch of the Child Protection Center "I MITERA" which is supervised by the Ministry of Labor and Social Affairs. It is a public structure that provides child protection services to adolescents.
Donation to "Good Shepard" via Desmos
In an effort to support social welfare structures for children against the COVID19 pandemic, we decided to support the needs of "Good Shepard", a social structure for the protection of minors in the municipality of Piraeus. Starting from April 2020 and for a period of 4 months, our donation will cover medical supplies, personal hygiene items, cleaning supplies and food for the 59 boys and girls aged 4 to 17, 27 of which live in the premises of "Good Shepard". The donation is being materialised via the non-profit organisation Desmos.
---
The Foundation does not award grants to individuals or corporations. The fact that Deppy Vasileiadis Foundation chooses to fund or otherwise assist certain charitable organizations does not automatically mean that the Deppy Vasileiades Foundation shares the views or endorses the activities of such organizations. Nor does it mean that Deppy Vasileiades Foundation, by providing assistance to such organizations, undertakes any relevant obligation (moral or legal) to continue providing said assistance. Furthermore, Deppy Vasileiadis Foundation assumes no liability or responsibility for any actions or omissions on the part of the organizations it supports. Further information on the legal aspects of our cooperation with organizations may be provided upon request.